About Russ
Hello! My name is Russ Miller and I've been shooting since 1974 when I purchased my first Winchester shotgun - Bought with money earned on my paper route. I was fortunate to have the opportunity to go target shooting and pheasant hunting with dad in Northern California and my love of guns and shooting grew.
At about this time I came upon the book "Small Arms of the World" by W.H.B. Smith - It was as thick as a telephone book and full of historical info, technical data, ballistic info, beautiful schematic drawings and hundreds of photos of military firearms of all types. This book became my constant companion and I vowed to myself that one day I'd have handled, shot or owned as many of these guns as possible! Over time I've made quite a dent in that goal.
I read every issue of "Field & Stream", "Sports Afield" and "Guns & Ammo" as well as other sporting magazines that I could get my hands on. Articles by such classic writers as Jack O'Connor, Elmer Keith, Charles Askins, Jeff Cooper, Bill Jordan, Jack Lott and Jim Carmichael were read and re-read.
History has always been my favorite subject and I read all the world, military and firearms history that I could process.
My first rifle was purchased in 1978 - A Winchester Model 70 in .243 Winchester caliber. The beautiful walnut stock, deeply blued steel action and barrel and classic lines had hooked me for good! I began buying more guns.
After graduating high school I enlisted in the US Naval Reserves as a Construction Mechanic - I served in Alpha Co. Detachment 302, RNCB2 - Treasure Island, San Francisco, CA -The Seabees. My military service was not particularly distinguished - I lubricated trucks and tractors, charged batteries and ended-up as assistant to our company commander. I was fortunate enough to get to fire in training the M1911A1 pistol, M16A1 rifle, M203 grenade launcher and LAW rockets. In my battalion many veterans of the Korean War and Viet Nam were serving and I learned a lot from them - They were great examples and quite a bunch of characters.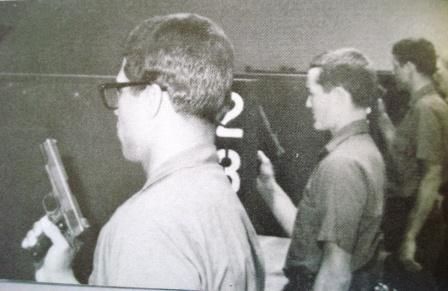 Above: Russ is second from left - 1979, San Diego, CA United States Navy Boot Camp. Pistol training. We used Colt .22 LR Target Ace pistols.
While attending and working on a business degree - I worked in the gun department of a local sporting goods store - A real, dusty, old surplus store - Hogan's Sporting Goods, in Pleasant Hill, California that sold many types of firearms - New and Used. I learned a lot from my coworkers and customers - Many very experienced in the outdoors, hunting, collecting and target shooting. Needless to say I spent most of my earnings at "the company store".
During this time I bought, sold and appraised thousands of firearms and met many interesting people. This exposure to so many types of guns helped me learn their features and operation to be able to sell them and make a living. Teaching customers to operate them safely was also one of our responsibilities. In addition we had to test-fire, clean, disassemble the reassemble all kinds of guns. We mounted scope and bore-sighted them too on a daily basis. Ultimately I ended-up running the gun department and it was one of the best jobs that I ever had.
One of my favorite responsibilities was to teach customers how to reload metallic and shotgun cartridges - A skill I had learned to lower the costs and increase the accuracy of my shooting. It was very rewarding to hear from my customers the positive results of their reloading efforts - They were safely and economically making better ammo to suit their specific needs.
This period of time when not at school was spent hunting, fishing, shooting and reloading cartridges to support my voluminous shooting habits. There were a number of people who were influential to me - That taught me many skills that I use today - This started in the late 1970's when an older gentleman at the rifle range named Winchell Gee taught me correct benchrest shooting technique(which I still teach to students today) that forever changed the way I approach shooting.
Above: Mobile Marksman firing an M1 Garand rifle from the sitting position at the CMP Western Games at the Ben Avery Range near Phoenix, AZ.
Collecting and shooting military surplus firearms became my greatest passion - A surge of military surplus imports starting in the mid 1980's and the fall of the Berlin Wall provided access to historic arms that one could have only dreamed of when I grew up. Many, many of these were bought, experienced and sold to allow for new types. I was also reloading cartridges for these throughout this time.
After earning my business degree in marketing, I left the sporting goods store/retail industry for construction - Over the years I was a salesman/estimator for granite and marble fabricator, tile contractor, natural stone importer and ultimately president of a contracting firm. Aside from work, I was still shooting and collecting guns - Lots of guns. I was also teaching people to shoot and bringing new folks into shooting.
In the construction industry there are a number of shooters - And it became popular to take customers shooting - A couple of rounds of trap at lunchtime as compared to a day of golf. They really enjoyed this - It was "different" -Very collegial and intimate - You could cheer-for, encourage or razz the other guy/gal.
Above: Russ shooting (just for fun...) 16 yard trap at Livermore, CA.
I was fortunate enough to become involved with a nonprofit organization that helps the temporally homeless: HomeAid, through the building industry. I became involved with gun safety for a large shooting event put on by HomeAid where we've had up to 400 shooters participating - Ultimately I was in charge of safety and shotguns for two large HomeAid events - One in Livermore, Ca and one in Lincoln, Ca. In our tenth year we have maintained a perfect safety record. These are great events but keeping an eye on 400 shooters per day keeps me on my toes!
As part of my duties for these events I was to help train new shooters how to safely operate a shotgun in a number of seminars and also give shooting tips and guidance on the days of the shoots. While working with these new shooters I began to get a lot of positive feedback - "Hey Russ - You are a great teacher - Thank you". I also realized that I had the ability to get my students to
hit
their targets. I was also having fun -Lots of fun. It was just as much fun for me to have a student "get it" and watch them hit targets safely, see them improve and HAVE FUN as it was for me to shoot.
Above: Russ with Finnish Mosin Nagant rifle at Vintage Metallic Silhouette Match Sacramento Valley Shooting Center. Rifle was made in the 1930's and still shoots very well.
The rough economy and decline of the construction industry gave me the opportunity to start the Mobile Marksman in 2010. Gaining a number of National Rifle Association Instructor certifications I was ready to go - My wife suggested the "Mobile Marksman" concept: "Have gun, will travel" essentially. I will come see you in the comfort (and safety) of your home, my classroom and the range near you in Northern California. I am your personal firearms instructor and gun sherpa/caddy. My classes are built around
your
needs, not mine. I combine history, technical data, solid instruction, personal attention and care to your training. In addition to the personal training I hold a number of NRA curriculum based group classes for those that prefer them (strength in numbers!) to individual instruction - Please check my schedule page for available dates.
Out of a a sense of social consciousness, I feel that if I can teach people to handle and shoot firearms safely, they will
not
have firearm accidents. Armed with this new knowledge and safety attitude these students might prevent their own and
other's
accidents through the passage of this knowledge and skill. The world will then be a safer place through my little bit of work and I might be redeemed for all the times that I've sped on HWY 680 and not been caught...
The "Day At The Range" concept came from my habit of taking 5-10 historical rifles to the range and shooting them all for accuracy. It always seems to get a lot of interest/attention at the range - People are curious about the history of the firearms and they want to handle, shoot and experience them. Often they've read about the guns but haven't seen them in person: This is their unique chance to experience them!
I enjoy working with new shooters and/or their families as well as those not yet comfortable with firearms. Let's talk about them. With more education, exposure, experience and training this might become your new passion! I've had a lifetime of fun with guns and you can too - Safely.
If you're still reading along - I'm Looking forward to meeting you at the range - Let's go shooting!
Russ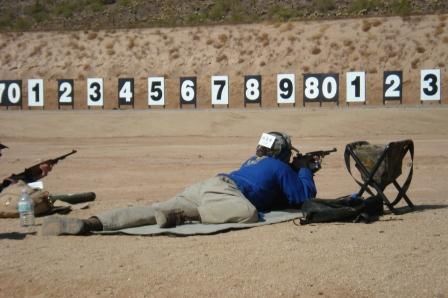 Above: Russ shooting M1 Carbine from the prone position at the Civilian Marksmanship Program's Western Games - Phoenix, Az. Anyone can enter these CMP matches - Come join me! The tag on the back of my hat does not say "Kick Me" - It is a name badge that the competitors wear.
©2017 MobileMarksman.com All rights reserved.