Military Surplus firearms are very interesting and a good value - Most of these firearms are very sturdy and well made like these Finnish and Russian Mosin Nagant rifles shown above.
There are millions and millions of surplus firearms out there that represent historical military service in virtually every country in the world.
Upon first firing a milsurp rifle, you might be surprised at their power and accuracy - Many of these rifles are sighted out to 2000 yards. They were made of wood and steel - Often assembled and finished by hand
These military Surplus firearms can be found at well-stocked gun stores, gun shows, on-line dealers and possibly your Grandpa's closet.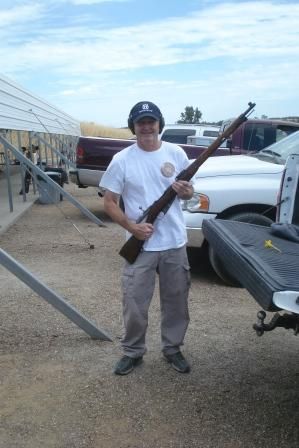 Above: Russ with Finnish Mosin Nagant M28/30 Rifle made in 1935 by SAKO. This rifle is used to shoot metallic silhouettes from 200 - 500 meters away.
Before shooting any military surplus firearms it is advisable to have them checked for function and safety by a qualified gunsmith.
There are large quantities of both surplus and newly produced ammunition for these neat old guns and they can make for a real, living historical experience - Whether you collect or shoot them.
If you'd like to try shooting a Milsurp - Check out the "A Day at the Range With Russ" page on this website - An opportunity to fire an number of types of historical firearms with an experienced historical gun nut!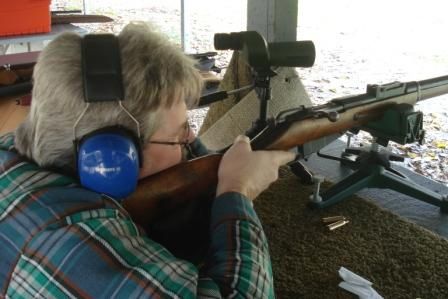 Brian squeezes-off a shot on the 100 yard line with one of his vintage M28/30 Finnish rifles.
French Berthier M1907/15 rifle made in 1916. Reloaded 8mm Lebel ammo by Russ keeps it running. With modern bullets,powder and loading techniques it shoots better today than 1916 when it was made.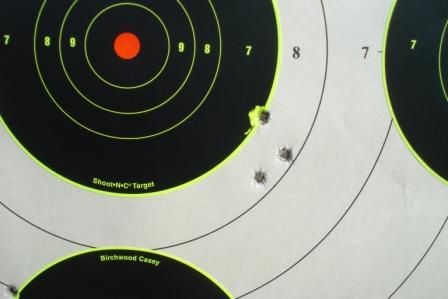 Group shot by the Berthier rifle at 100 yards.
1891 Argentine Mauser rifle in 7.65x53 Mauser tested for accuracy at 100 yards rested under forend and buttstock.
©2017 MobileMarksman.com All rights reserved.